B.R.I.D.G.E.
Congratulations on becoming a Bristol Bayhawk! Kick off your Bristol journey by joining our B.R.I.D.G.E program this summer!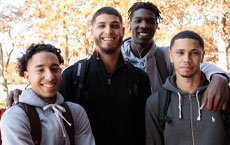 B.R.I.D.G.E stands for Building Relationships Inclusive of Development, Growth, and Engagement and is designed for students who identify as BIPOC (Black, Indigenous, People of Color).
Please utilize the drop-down tabs below to learn more about the program, how to register, and the great lineup of workshops, activities and more we have planned!
We are so happy to have YOU with us!
This program is open to all incoming Fall 2022 students, however those who will benefit most will identify as BIPOC (Black, Indigenous, People of Color).
The goal is to create space on campus for groups who have historically been underrepresented in college environments. Research has shown that students who identify as BIPOC thrive in college environments when resources are tailored to our/your experiences.
We will be offering in-person BRIDGE programs this summer.
July
Thursday July 14, 2022
9 a.m. - 2:30 p.m. | Student Session (food & refreshments provided)
2:30 - 4 p.m. | Family & Friend cookout
Register here for BRIDGE program!
Please note: You must show proof of COVID-19 vaccination or have a valid COVID-19 accommodation to attend the In-Person BRIDGE program on July 14th. Learn more about Bristol's Vaccine policy: Vaccination Policy For Students | Vaccination Policy for Visitors
Schedule of events for morning session:
9 a.m. - Check In begins: G building
9:30 a.m. - Welcome
10 a.m. - Keynote & Activity
11:15 a.m. - Break
11:30 a.m. - How 2 College Panel
12:30 p.m. - Lunch Break (meal provided)
1 p.m. - Workshops begin
2:30 p.m. - Affinity Space Meet-up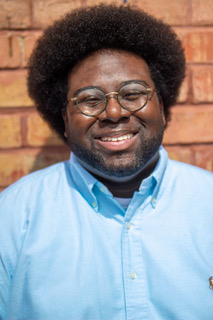 Corey Martin Fitzgerald, M.Ed., ABD, LMHC was born and raised in Shreveport Louisiana. Corey received a Bachelor of Arts in Sociology with minors in Gender Studies and Vocal Performance from Louisiana Tech University, a Master of Education in Clinical Mental Health Counseling from Louisiana State University, and is currently a doctoral candidate for the Educational Doctorate in Educational Leadership at Johnson & Wales University-Providence. Corey's dissertation will explore the lived experiences of Black, queer women who attend predominantly white institutions, and factors for degree persistence. Corey joined Brown University's Counseling and Psychological Services (CAPS) in Fall 2019 as a 10-month Psychotherapist/Brief Treatment Specialist. Now, Corey serves as a 12-month Psychotherapist, as well as the Coordinator for Outreach & Programming for CAPS. Corey is entering his fifth year of working in collegiate mental health, with clinical interests including; BIPOC, LGBT+ issues, mindfulness/meditation, CBT/DBT approaches, and outreach/preventative care. His previous professional appointments include Mississippi State University and Louisiana State University.
Corey has experience in numerous facets of campus life, including; career counseling, campus outreach, prevention programing, academic counseling, admission/orientation services, crisis management, individual and group psychotherapy, academic support services, residential life, and brief treatment interventions. As a Black, queer, neurodiverse, formerly low-income, first-gen graduate; Corey uses his intersecting identities to inform his practice and his research. Corey lives in Providence Rhode Island, and in his spare time can be found; reading about the Black experience, perfecting his French patisserie baking skills, singing jazz and soul music, collecting vinyl, and spending time with his pet cat, George.
Hear from panelists and learn about the information that was helpful and not helpful during their personal college experiences. Listen to stories and learn inside tips and tricks that will help you be successful at Bristol and beyond!
Session Facilitator:
Robert Delaleu, Director, Multicultural Affairs
Hi everyone! My name is Rob Delaleu. I am the Director of Multicultural Affairs at Bristol Community College. The Multicultural Affairs team is here to serve our students, faculty and staff in the spirit of Justice, Equity, Diversity, & Inclusion (JEDI).
I am a conscientious leader that will get the job done and will unite us all in the midst of a world that needs positive leadership. My team and I will work hard to assure you that Bristol is an equitable campus. We will intently focus on the areas of need for you to have a fair and enjoyable experience here. I am excited to serve and support you with pride. Go Bayhawks!
Fun fact: Many students call me Coach or Coach D. Prior to 2020, I was the Men's Basketball Coach here at the college for 12 years. Many of our advancements and success came from working directly with our diverse athletic groups and especially my men's basketball teams. I am a local resident from New Bedford, MA and love to go out to eat. You will find me at many of our local ethnic eateries around Bristol County.
Contact Info:
Email: Robert.Delaleu@BristolCC.edu
Phone: 774.357.4056
Office Location: G220C, Multicultural Student Center, G Building, Fall River Campus
Session Panelists:
Donnie Taveras, Diversity Engagement Officer, Multicultural Affairs
Hello! My name is Donnie Taveras. I am excited to continue getting to know the supportive community at Bristol. This year I will be connecting with historically under-served populations including BIPOC (Black, Indigenous People of Color) students. My role involves creating initiatives/programs and reporting data that shows where BIPOC students are thriving and where the college could do better to create equity.
I love to travel the world, go to interesting places, have created business ventures including a meal prepping business and overall love to be outdoors, dance and finding great coffee spots.
Heckerly Flores Maria, Student Success Coach, Student Success Center
Heckerly is a first-generation college student of immigrant parents that was born in the Dominican Republic and grew up in Providence, Rhode Island. Previously she worked at the College Crusade of Rhode Island as a College Success Coach for the Accelerate program. The Accelerate program collaborated with the Providence Public School Department for a dual enrollment program providing high school seniors with the opportunity to enroll in college full time while earning their high school requirements. Heckerly's experiences, while earning her General Studies degree from the Community College of Rhode Island and Bachelor of Arts in English from Rhode Island College, allowed her to discover her passion for supporting and advocating for students. She obtained her Master of Education at Providence College this past Spring.
Chrystal Puniello, Academic Coordinator & Adjunct Instructor, Lash Center for Teaching and Learning
Hello! My name is Chrys Puniello and I serve as the Academic Coordinator for the Lash Center for Teaching and Learning at Bristol Community College. I also serve as an adjunct faculty member here at Bristol.
In my role as a coordinator, I help to develop, organize, and plan dynamic professional development programming for Bristol's faculty and staff so that we can best serve you, our students! As a faculty member, I am here to support Bristol students in the classroom as they work towards their academic and career goals.
My educational background is in psychology, and within the past 12 years, I've had the pleasure of working with middle school, high school, and college students in the areas of college access, academic enrichment, social development, and career and vocational exploration in Rhode Island, California, and Massachusetts.
Exploring your educational and career options is something that is near and dear to my heart. My high school internship is what confirmed for me that I wanted to be able to work in a field that would allow me to help others achieve their goals.
I'm so thrilled that you are here. Welcome to Bristol
Dr. Dariel "DT" Henry, Director, TRIO
Dr. Shanna Howell, Dean, New Bedford Campus
Shanna L. Howell, Ph.D., was named the Dean of the Bristol Community College New Bedford Campus in August 2019 after working as Director of Student Success at Grand View University in Des Moines, Iowa.
Shanna earned her Bachelor of Science in sociology at The University of West Georgia in Carrollton, Ga.; her Master of Science in adult learning and organizational performance from Drake University in Des Moines, Iowa and her Doctor of Philosophy in educational leadership and policy studies, community college leadership program, from Iowa State University in Ames, Iowa.
Shanna is a proud member of the United Way of Greater New Bedford Board, a board member for the Our Sister School located in New Bedford, a trustee for the Turner Free Library in Randolph, and a member of the Diversity and Race Equity Advisory Council for the Fuller Craft Museum in Brockton.
Self-Advocacy Workshop
"Self- Advocacy is an individual's ability to effectively communicate, convey, negotiate or assert his or her own interests, desires, needs and rights." (VanReusen et al., 1994). This workshop will discuss self- advocacy and the tools to feel empowered on campus and beyond.
Session Facilitators:
Julie Jodoin-Krauzyk, Director, Office Disability Services
Kitt Kelleher, Learning Specialist, Office Disability Services
Get involved at Bristol
Learn about the different variety of programming, leadership opportunities support and experiences Bristol has to offer!
Session Facilitators:
Mike Fox, Assistant Director, Student & Family Engagement
Donnie Taveras, Diversity Engagement Officer, Multicultural Affairs
Melissa Rogers, Student Activities Officer, Multicultural Affairs
Work-Study opportunities at Bristol!
Bristol's work-study program can not only help you pay for school, but it can be utilized to help gain professional experience as well! Learn about Bristol's work-study program and how it can help you earn money, build your resume, explore career options and more!
Facilitator:
Amy Marden, Coordinator, Financial Aid
Students, Family, and Friends are invited to join us at 2:30 p.m. for our FREE cookout celebration, courtesy of Bristol's Multicultural Affairs department. The cookout will take place outside G building, Fall River Campus. Please read below to learn more!
DJ Services: DJ Jules
DJ Jules was born and raised in New Bedford, Massachusetts. His love for record digging came at a young age when he would often go through his mother's old albums and listened to classic funk, soul, disco, and freestyle records. Always having a love for music, his interest for DJing sparked while watching a DJ Jazzy Jeff set on TV. He loved the 90's hip-hop and R&B but knew that he didn't want to be known as just a "hip hop DJ". Jules wanted people of all ages to be able to go to his parties and have a good time. He started incorporating music of different genres in his sets along with the music he listened to as a child.
DJ Jules attended Bristol community college and the university of Massachusetts Dartmouth where he perfected his craft and started DJing on the college radio station on campus. It wasn't long before he branched off to doing clubs in the Boston, MA and Providence, RI areas. Since then he's DJed at some of the top clubs in New England and biggest radio stations on the East Coast. You can hear him every week on Jam'n 94.5.
Resource Tables & Activities
The following departments will be on hand to answer questions, meet students, and pass out resources!
Campus Tours
TBD
BRIDGE is here to make sure that you are prepared for your first day of classes. In addition to our in-person events, we will also be offering virtual, weekly workshops that go over essential information for college success. Once you sign up for one of the in-person sessions, you will automatically be sent a link to join us virtually!
Can't attend a session in-person but would like to attend virtual sessions? No problem! Use the registration below to access our virtual online sessions.
Register for virtual online sessions here!
Virtual Workshop Schedule:
All virtual workshops will take place from 5 - 6 p.m. via Zoom
July 20, 2022: Understanding Financial Aid
July 27, 2022: Understanding Black Board & navigating online spaces
August 3, 2022: TBD
August 10, 2022: Library Learning Commons resources and tools
August 23rd, 2022: Understanding your Syllabus
August 24, 2022: TBD