Scroll Down for Page Content
---
---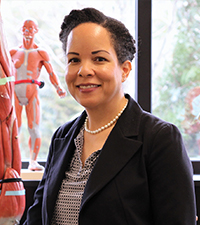 Students Share in Love of Research and Passion for Knowledge
Unlike many little girls growing up in Greensboro, North Carolina, who cherished the gift of a Cabbage Patch Doll at Christmas, Adrienne Foster Scharf, Ph.D., asked for chemistry sets, a microscope, test tubes and slides.
"Some people know at an early age what they want to do with the rest of their lives because they are already doing elements of their jobs as children," recalls Dr. Foster Scharf. "I've always been interested in biology and how, specifically, organisms make us sick."
Her inquisitive nature, love of research and numerous science fair awards landed her at North Carolina Agricultural and Technical State University (N.C. A&T), where she earned a Bachelor of Science in laboratory animal science. At Purdue University, she earned her Ph.D. in biological science with a concentration in structural biology.
Dr. Foster Scharf came to Massachusetts when her husband Frank received a job offer working for a software company. Infused with a passion for teaching and a desire to work in a lab, she accepted a teaching position at Bristol. Coming from N.C. A&T, ranked as the number one public, historically black university in the nation, she strives to provide her students with the support and care her professors bestowed upon her, combined with the insight of the world-class education she gained from Purdue University. "I found an opportunity to take those two things and give that to the students at Bristol."
Dr. Foster Scharf is interim Dean of STEM and a biology professor, instructing courses in the life sciences program in the STEM division and serves as the Coordinator for Biotechnology and Forensic DNA. With the rapid increase of career opportunities in the biotech industry, the program provides students with the skills to work as lab technicians in the biotechnology and biomedical fields, and other disciplines such as forensic science, agriculture and aquaculture.
She is most proud of the work she did as a research assistant at Purdue University, developing new inverse methods to expedite protein structure determination. "Years ago, it could have taken more than six months to figure out the shapes of proteins. This discovery can lead to medications that prevent infection."
Much of her research focused on the human papillomavirus (HPV), investigating the domain organization of the HPV structural protein, L1. One of her outcomes produced computer models of HPV capsids from cryo-electron micrograph images.
The work that she did in college continues to be relevant today. Many of the computer models of COVID-19 use the same techniques that she used at Purdue. "Studying the shape and the chemistry of COVID-19 protein spikes can help us predict how to block them and keep them from infecting our cells," said Dr. Foster Scharf. Many of her students advocated to their friends and family about the importance of getting the vaccine. "Their experience at Bristol has empowered them to use their voice and influence positive change."
She emphasizes to her students that the faculty at Bristol are passionate about their chosen fields and have a vested interest in their students' success. "We want to share our excitement with them. We want to see them grow in their knowledge and see them succeed," she says.
"One of the most meaningful aspects of my job is to be given the opportunity to be a positive influence on my students and to make their lives better every day."
Dr. Foster Scharf is a recipient of a 2023 Dale P. Parnell Distinguished Faculty Award from the American Association of Community Colleges. This prestigious award distinguishes faculty who not only exemplify excellence in an academic setting but who also work outside the classroom to help their students achieve success.