Fall 2021 and Spring 2022 Athletics Update
Bristol is excited to announce that the college will be safely reinstating its championship-winning, tournament-reaching athletics program this upcoming Fall 2021 and Spring 2022 semesters. Bristol's Athletics program is integral to the academic and personal success of the college's student-athletes, whose dedication and responsibility on the playing field and in the classroom inspire Bristol's vibrant college community.
As the college continues to lead with safety, all Bristol athletes and coaches will be required to follow weekly COVID-19 testing and strict National Junior Collegiate Athletics Association (NJCAA) and United Council for Athletics Health safety protocols specific to athletes. Similar to Bristol's academic programs, the college will continue to remain flexible and will adapt accordingly if safety or health conditions change. As a safety precaution, the Bristol Bayhawks will also be restricting competition to within the New England region.
The college's Men's and Women's Soccer and Cross-Country teams will begin practices this coming August before Men's and Women's Basketball resumes their practices in October. The Bayhawk's Women's Track and Field and Men's Golf teams will begin practice and competition in March 2022.
In addition to resuming competition, the college's athletics program and specialized services for student-athletes will continue to support our players, academically and professionally, throughout their Bristol experience. Bristol's popular new, intramural Esports will also continue offering organized, multiplayer video game competitions with a variety of game titles. For more information about Esports at Bristol, click here. The college will closely assess all upcoming athletic seasons to be sure health and safety considerations allow and will continue to keep the college community updated.

For questions about NJCAA eligibility or about Bristol Athletics upcoming plans, please contact Director of Athletics and Recreation Derek Viveiros, by emailing derek.viveiros@bristolcc.edu or by calling 774.357.2818.
See the latest updates for Bristol Athletics and Recreation. CLICK HERE
---
Athletics
The classroom isn't the only setting where you can excel at Bristol Community College. Bristol offers a wide-ranging athletics program including:
Women's Outdoor Track and Field
Men's and Women's Basketball
Men's and Women's Soccer
Men's and Women's Golf
Men's and Women's Cross country


The mission of the Bristol Community College Athletics Department is to uphold the integrity of Bristol Community College by encouraging the characteristics of hard work, responsibility, and dedication both on the playing field and in the classroom within all of our student-athletes.

Academic success is the primary reason for offering athletic opportunity to our student-athletes. As a department, our goal is for you as a student athlete to graduate or transfer.
View the Bristol Bayhawks official website.


Athletics Virtual Awards Show
Bristol Community College's extraordinary student-athletes were celebrated at the college's first Athletics Virtual Awards Show, on Thursday, June 18, 2020, hosted on the Bristol Athletics Facebook page. The virtual, live event celebrated the success of Bristol's fall and winter sports athletes on and off the playing field, by highlighting the personal, collective and academic success of the college's athletics programs.
The innovative awards show presented awards for Outstanding Female and Male Athlete, Female and Male Academic Achievement, Female and Male Academic Comeback, Female and Male Newcomer of the Year as well as the GRIT Award, presented to a student-athlete that demonstrates excellence through greatness, resourcefulness, integrity, and teamwork. This year's awards show included new awards such as Team of the Year, Game of the Year and Most Memorable Moment.
The event honored the collective achievements of the college's athletics teams, such as the Bristol Women's Basketball Team earning their way to the Region XXI semi-final and Bristol Women's Soccer Team finishing as runner-up in the Region XXI Tournament, following two rounds of penalty kicks in the championship game. Most important, both programs achieved a team academic GPA of 3.0+, for 2019-2020. In addition, Bristol celebrated the college's 20 active student-athletes who were named to the Region XXI AD Honor Roll.
2020 Bristol Community College Athletics Virtual Award Show Recipients:
Outstanding Female Athlete: Alyssa Tortora, Women's Soccer
Outstanding Male Athlete: Stanley Freeman, Men's Basketball
Female Academic Achievement Award: Makayla Pinkston, Women's Soccer
Male Academic Achievement Award: Devyn Alves-DeSimas, Men's Soccer
Female Academic Comeback Award: Anastasia Monte, Women's Soccer
Male Academic Comeback Award: Chad N'Guia, Men's Basketball
Female Newcomer of the Year: Abbie Hurley, Women's Basketball
Male Newcomer of the Year: Guilherme Antunes, Men's Soccer
GRIT Award (Greatness, Resourcefulness, Integrity, and Teamwork): Kassidy Raposo, Women's Soccer
Team of the Year: Bristol Women's Basketball, for improving from 1 win a year ago, to 15 wins in 2019-20, including a trip to the Region XXI Semi-finals. In the classroom, women's basketball achieved a 3.01 team GPA, in the fall 2019 semester.
Game of the Year: Bristol Women's Basketball, with a 114-107 overtime win against Gateway Community College, on December 7, 2019.
Most Memorable Moment: Bristol Women's Soccer, with a tremendous turnaround against Holyoke Community College, in the Region XXI Women's Soccer Tournament Final, on October 28, 2019.
STUDENT PROFILES - SEYGOUN KABA
Class of 2018 | General Studies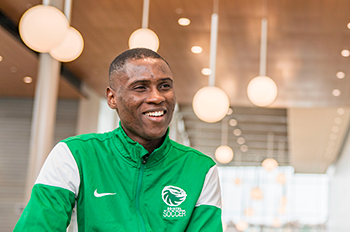 Seygoun Kaba − a 28-year-old from the Ivory Coast − may not seem like your typical Bristol student.
But when researching colleges, he looked for many of the same things you may be looking for – an affordable education, close to his new home, where he could maintain his quality of life in and out of the classroom.
‌Learn more about Seygoun's journey.