Scroll Down for Page Content
---
---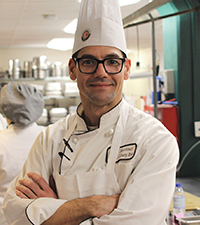 Chef Martinez Infuses Culinary with Culture
Esteban Martinez grew up in Toa Alta, along the northern coast of Puerto Rico. His dad worked long hours as a computer programmer and his mother returned to college later in life to pursue a nursing career and then worked second shift. He learned how to cook out of necessity.
As the youngest of three children, he arrived home first while attending middle school. Infused with adobo seasoning (a mix of garlic, oregano, black pepper, vinegar and water) and indigenous ingredients of the Caribbean Island, he set on a quest to create fresh meals that were tasty. As he added sweet plantains to the crackle of fried butter, he would consult his grandmother, Olga, on how to make local dishes such as tostones and mofongo. Fluffy rice and beans were a staple in the Puerto Rican diet. First and foremost, the food has to taste good," he says.
At an early age he found his passion for cooking and after obtaining a certificate from the island, he embarked on a culinary journey to the United States. He graduated with a bachelor's degree in culinary arts from the distinguished Johnson and Wales University, one of the top two cooking schools in the country. While living in the Providence area, he worked in restaurants, rising to the coveted title of chef de cuisine at Avenue N American Kitchen in Rumford, R.I.
Back in Puerto Rico, his parents transitioned their careers into higher education which inspired him to earn a Master of Science in Management from Eastern Nazarene College. There was an opening at Bristol in 2012, and he was hired full-time.
"I felt compelled to pursue that path because it was a family-friendly schedule".
Today, Esteban is an associate professor and serves as the department chair of the culinary arts program in the business and experiential education division. He teaches courses such as culinary art, advanced culinary techniques I & II, baking skills for cooks and the capstone experience for culinarians. The curriculum culminates in a senior recognition dinner in the Grady Dining Room. "Before graduation they combine all the skills that they learned throughout the program to plan, prepare and execute a fine dining experience."
Esteban has been a proactive leader of the culinary arts department spearheading an effort to ensure the culinary curriculum is up to date with industry standards. He is also working with high school and industry partners to provide ample programmatic and industry exposure to culinary students.
As Esteban influences a new generation of chefs, he is optimistic about their job prospects because most restaurants are understaffed and trained chefs are in high demand.
"Most of our students have jobs right after graduation and some of them are already working in the industry in some capacity".
Students also gain experience catering events at the college. If you attended a gastronomical event at Bristol recently, it was most likely under the direction of Esteban with the influence of his grandmother, Olga.