Scroll Down for Page Content
---
---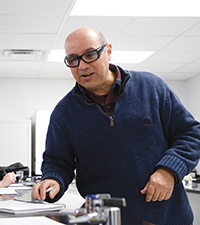 Bristol Faculty Experience Offers Blueprint for Success
With the discovery of DNA, genetics help us unlock the secrets of our past and provides us with information to improve our health in the future. Mario Garcia- Rios, Ph.D., Professor of Biochemistry in Bristol's STEM division, began a quest to find out more about DNA. This passion changed the trajectory of his life. "The gene is such a mysterious thing because it offers a blueprint of information for all organisms," says Dr. Garcia-Rios.
As a first-generation college student, he earned an undergraduate degree in biochemical engineering from the Monterrey Institute of Technology in Mexico. He went on to graduate school at Purdue University where he was selected as a McKnight Foundation Fellow and graduated with a Ph.D. in Biochemical Genetics. His doctoral studies focused on ways to understand drought tolerance in plants of agricultural importance.
"The proudest moment of my career was when I discovered a first-of-its-kind gene called the "tomPRO1 locus." He named it "TOMpro1", since the gene was isolated from a tomato and is responsible for making the first step of the biosynthesis of the amino acid proline possible. His finding was published in the Proceedings of National Academy of Sciences.
His family moved to Laredo, TX, which is a border city close to Monterrey, to take a position at Texas A&M University before landing in Massachusetts. "I was attracted to Fall River because of the cultural diversity and interesting Portuguese community. So many things remind me of my Hispanic heritage," he said. "I love this place. It is my forever home."
Dr. Garcia-Rios teaches microbiology and chemistry at Bristol. Most of his students are pursuing careers in nursing, dental hygiene and veterinary technology. He focuses on the most current trends in science and imparts the lesson of empathy.
"I hope my students are choosing their careers because they enjoy caring for people and not because they want good-paying jobs."
Bristol recently secured a DNA Sequencer, a highly sophisticated machine that automates DNA studies. DNA allows us to find predispositions to certain diseases and to take preventive measures to improve our health. "When I was in graduate school, it would take months to sequence just one gene. Soon, utilizing the latest technology, our students will be able to sequence an entire genome, which is thousands of genes, in a matter of minutes."
STEM Academies Drive Job Growth and Innovation
Bristol Community College has received $1 million, from the Baker-Polito Administration's awarding of $5 million to five organizations in support of new STEM Tech Career Academies, designed to help more young people earn associate degrees and industry certificates in STEM fields.
The innovative STEM Tech Career Academies will launch as six-year programs that enable high school students to earn both a high school diploma and a post-secondary credential at a community college, at no cost to the students.
The new initiative also aims to address equity and opportunity gaps in STEM industries. The hybrid pathway focuses on partnerships between the community college, STEM employers and school districts. Bristol will partner with neighboring Attleboro High School, B.M.C. Durfee High School, Somerset Berkley High School, Taunton High School and Westport High School to launch a STEM Tech Career Academy focusing on environmental and life sciences careers. The partnership will leverage Early College programs and includes Associates of Cape Cod, Celldex Therapeutics and the Waters Corporation as industry partners.
This grant requires open equitable access to enrollment with a focus on under- represented students. This means that students can earn their high school diploma and associate degree in a seamless model. The cost-free, post-secondary credential encompasses workplace learning, including mentoring worksite visits, speakers, project days and paid internships.
STEM Tech Career Academies combine and extend key elements of the highly successful Early College and Early Career Innovation Pathways programs that were launched several years ago. The administration anticipates that by fall of 2023, more than 75 high schools will have students enrolled in Innovation Pathway programs and 65 high schools will have Early College programs, serving as starting points for STEM Tech Career Academies. The goal is to eventually enroll between 1,600 and 2,000 students in programs in the next few years.