Scroll Down for Page Content
---
---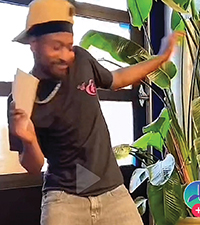 Creating a Current for New Career Opportunities
The nation's first utility-scale offshore wind project is set to launch this year off New Bedford's coastline, and Bristol's National Offshore Wind Institute (NOWI) is at the epicenter, prepared to meet the training needs of this new workforce.
In addition to developing its state-of-the-art training facility in the heart of New Bedford's offshore wind operations, Bristol is working to increase awareness of the exciting and promising career opportunities that will become available in the region.
Bristol was awarded a grant by the Massachusetts Clean Energy Center's Expanding Access to Opportunity in Offshore Wind initiative to launch Wind Works, an offshore wind communication campaign, to under- represented neighborhoods in the City of New Bedford.
Through the Wind Works for You campaign, Bristol has partnered with key neighborhood organizations: Old Bedford Village, Positive Action Against Chemical Addiction, Greater New Bedford Boys and Girls Club and Dennison Memorial Center, to coordinate awareness events and communication in key districts throughout the city.
The campaign was designed by New Bedford creative businesses, who engaged the young adult community in the campaign's design and delivery. They were involved in social media work and photo shoots and provided feedback on design elements and messaging.
The partners, design teams and participants connected with leadership and community liaisons at the Massachusetts Clean Energy Center (MACEC), Vineyard Wind, SouthCoast Wind (formerly Mayflower Wind) and Vestas, and were invited as guests to pop-up events with 3RD EyE Unlimited – a core community partner alongside Old Bedford Village. The connections to MACEC and leading offshore wind companies brought credibility to the campaign and also gave the companies exposure to New Bedford's diverse populations. The campaign also allowed Bristol to promote the NOWI facility, and its trainings, in its messaging.
Full-time and part-time students enrolled in the college's Certificate of Achievement in Offshore Wind Power Technology and Associate in Science Technology/ Offshore Wind Technology programs will have their college fees subsidized, thanks to a generous donation of up to $50,000 per academic year.
The donors of this gift, who wish to remain anonymous, are deeply passionate about renewable energy. As the offshore wind industry comes to the United States, they purposefully selected Bristol Community College as a gift recipient to encourage more students to enter this exciting and well-paying career field.
The offshore wind sector is poised to create thousands of job opportunities across a wide range of disciplines. Bristol Community College's offshore wind programs and its National Offshore Wind Institute (NOWI) play a critical role in developing a strong regional workforce and local infrastructure to support the burgeoning industry and the resulting economic development in Massachusetts.
"Becoming part of the offshore wind industry has been some of our most exciting and valuable work here at the college," says President Laura L. Douglas. "We are thrilled to be able to build the trained workforce that will be supporting local jobs that are coming, and that students are ready to invest their time in learning valuable skills to enter this new sector."
Visit WindWorksforYou.com to learn more. Click on the "Connect with Us" button to learn more about how to participate and engage with Bristol's training programs at the National Offshore Wind Institute and other Bristol resources.