Scroll Down for Page Content
---
---

Past event - stay tuned for the next Honors Showcase in 2024
All are invited to drop by the Honors Showcase, Tuesday, May 9, 2023 from 12 p.m. - 2 p.m. in the G-Building Atrium. Students would love to discuss their final Honors projects with you. Stroll around our tables to learn about these exciting projects and how to get involved with the Honors Program at Bristol.
Presentations will include:
Celestial Cakery, Mackenzie Benjamin
Resources and Assistance for Bristol Students Struggling with Substance Abuse, Stacy Botelho
The Fire Within: Stories of Hope and Resilience of Khmer Rouge Survivors, Lily Chan
Propelling Shares and Likes into Entrepreneurial Success, AJ Coleman
Generational Gaps in the Workforce, Stephanie Crane
Dalle Image Manipulation, Gunner Cook-Dumas
Empowering Today's Youth, Kenzie Costa
The Book Banning Epidemic, Gwyn Hallman
Writing Out Loud, Brenton Jackson
Massachusetts Harm Reduction Services, Nora Johnson
Exploring STEAM, Solange Lima-Soares
Sexual Dimorphism and the Human Brain, Aiden Morgado
Here Lyeth: Gravestone Iconography of Early New England, Victoria Robidoux
Birds, Fly-Ins, and Trash Dives, Flynn Semenuk
Recognizing Toxicity in Relationships, Erica Silvernail
The Importance of Empathy in WWII Nursing, Mercedes Soto Perez
Exploring Arthurian Mythology in Modern Media, Christina Souza
The Dangers of A.I., Spiro Spyrou
Mental Health: How Hormone Imbalance Can Impact Emotional Stability and Thought Process, Kayla St. Pierre
Previous Showcase Presentations
Students discussed their final Honors projects from the spring 2022 semester.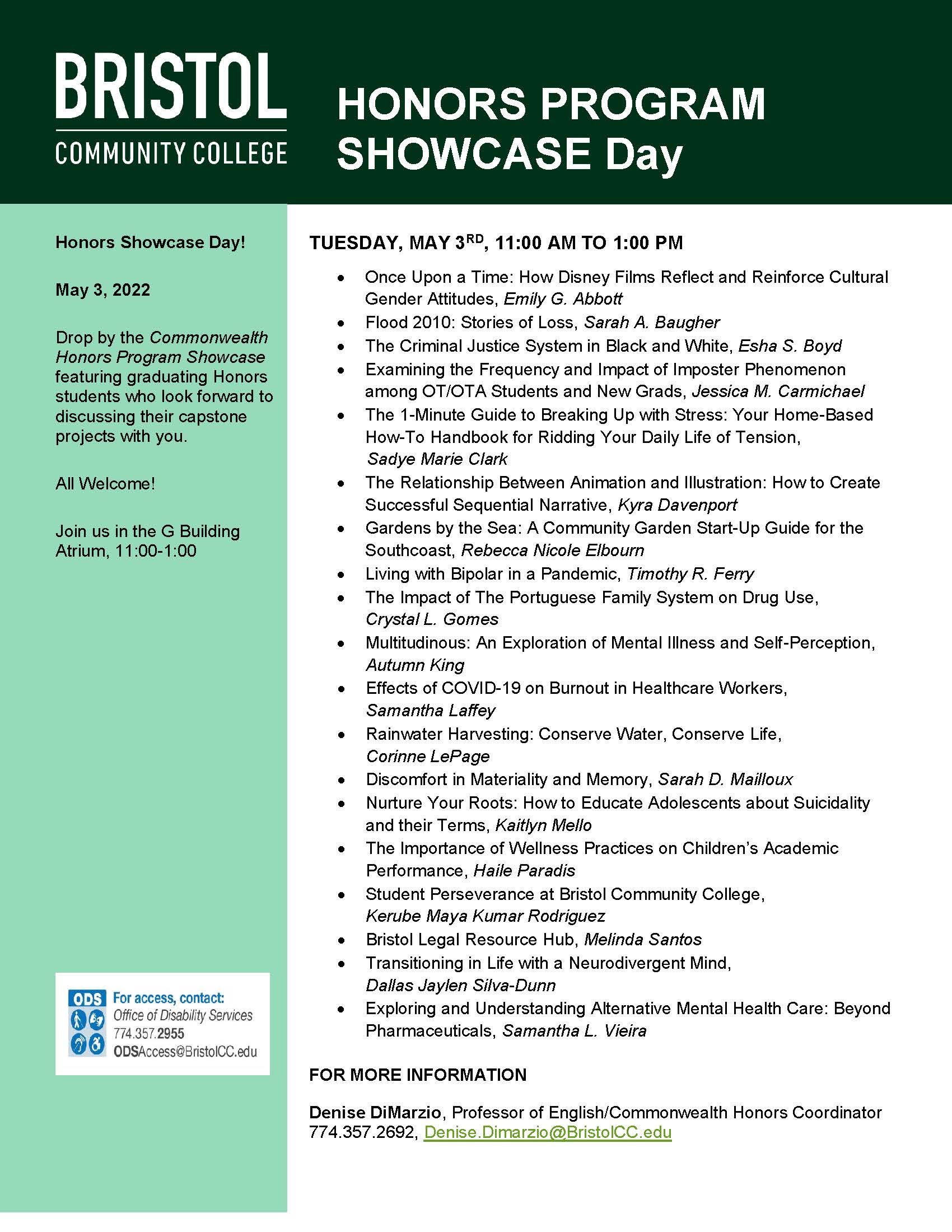 Video presentations that were not made in person during the event:

The Impact of the Portuguese Family System on Drug Use | Crystal Gomes
Bristol Legal Resource Hub | Melinda Santos
Project Happy Healing: Exploring and understanding Alternative Healthcare: Beyond Pharmaceuticals | Samantha Vieira
The Fall 2021 Honors Showcase took place virtually Tuesday, December 7 through Thursday, December 9, from noon to 1 p.m. each day.
Join our graduating Commonwealth Honors students as they proudly present their final Honors projects. With so many graduates this year, we again have changed our Showcase Day to a multi-day event! Each day, multiple students will share their work and guests will have a chance to interact with them.
See recordings of each day's presentations below.
Schedule of Presentations:
Tuesday, December 7, noon – 1:00 p.m.
Here, There, Both or Neither: Young Immigrants' Self Identity | Nadia Calderon
Understanding how first and second immigrant generations develop their sense of identity and belonging.
Effects of Storage on RBC Morphology | Michael Krawchuk
Time-dependent assessment of morphological changes to red blood cells in storage and how it affects test results.
Burnout | Samantha Laffey
A look into the effects that "burnout" has on nurses and the nursing profession.
Who's Training Who? | Ashley Meeks
Measuring the impacts of dog training programs on inmate handlers.
---
Wednesday, December 8, noon – 1:00 p.m.
Imagine a City | Michael Gould
A visual arts study into the process of designing fictional locations at various scales and perspectives for use in films, animations, books, and comics.
Multicultural Families: Reimagining the Family Tree for the Classroom | Shanna Marszalkowski-Krawitz
Discussion and learning plans for teaching multiculturalism in today's elementary classroom through exploring what family means in the modern era.  
Decontextualized: Enduring Perspectives on American Immigration | Michael Perry
An original literary novella that investigates the historical echoes of American cultural values surrounding immigration. 
'Inhuman' | Kennedy White
Despite years of increasing awareness and acceptance of the LGBT+ community, one orientation still fights to be heard and understood.
---
Thursday, December 9, noon – 1:00 p.m.
Living with Bipolar in a Pandemic | Timothy Ferry
Discussing the unique challenges of the pandemic for people living with bipolar disorder. 
Neo-Nexus | Zachary Lucas
Animated short story set in a dystopian/cyberpunk-esque world using semiotics and filmography techniques.
A Place Called Home: Understanding the Impact of Adoption in Massachusetts | Jonathan Tonin
A deep dive into how the adoption process in the state of Massachusetts and the effects of adoption on the social and emotional well-being of children.
Lunch and Learn at Honors Showcase Week, Spring 2021
The 2021 Honors Showcase took place virtually Monday, May 3rd through Thursday, May 6th, from noon to 1:00 p.m. each day.
Our graduating Commonwealth Honors students proudly presented their final Honors projects. With so many graduates this year, we have changed our Showcase Day to a full week of events! Each day, multiple students shared their work and guests had a chance to interact with them.
Please see the recorded Zoom sessions below from each of the four days.


Schedule of Presentations:
---
Monday, May 3, noon – 1:00 pm

Climate Change and Multinational Corporations: Displacement and Decay of Life | Celina Brasil
This research is grounded in the idea that climate change is forcing people around the world to migrate in search of a better life and explores the relationship between multinational corporations and climate change.
A Tale of Two Pandemics: Substance Use Disorder in the Age of COVID-19 | Katherine Haley
A review of how Massachusetts has kept its overdose death rates so far below the national average during the Covid-19 pandemic.
A Pandemic within a Pandemic: Domestic Violence during the Covid-19 Battle | Te'Lynn Layton
A look at what has gone on behind the scenes in homes during Covid-19 and the potential violence that can be occurring.
Gods then, Myths now; the Lore of the Bathroom | Brandon Souza
Ancient Gods of the bathroom. Modern myths of bathroom spirits. How much do they connect? How do such Gods and myths change across the world? 
---
Tuesday, May 4, noon – 1:00 pm

Capturing Culture and COVID: A Snapshot of New Bedford Culture Podcast | Kwang Arnzen
The cultural movements, setbacks, connections, and triumphs of New Bedford cultural organizations in the time of Covid-19. 
The Implications of COVID-19 Isolation for Individuals with Substance Use Disorders | Justine Gonsalves
An analysis of how COVID-19 related social isolation is negatively impacting individuals with substance use disorders.  
Stopping the Revolving Door: An Analysis of Efforts in the Massachusetts Corrections System Designed to Cut Down on Recidivism Rates | Hannah Walsh
An in-depth analysis of programs in Massachusetts aimed to reduce recidivism rates and increase their effectiveness.  
Connecting with Nature through Birdwatching | Sumedha Welgamage
Birdwatching is much more than a pastime that benefits humans and nature. A study of how Bristol could promote birdwatching and promote nature conservation. 
---
Wednesday, May 5, noon – 1:00 pm

Human Resources Support of Working Parents | Magie Hudson
Parents are often viewed as disadvantaged individuals in the workplace. This research pursues the question of "How can Human Resources Support Working Parents?"  
Rethinking the Polarized U.S. Two-party Political System | Peter (PJ) Lenza
This research examines how the two-party system perpetuates partisan conflict, fails to represent the population properly, and ultimately weakens our democracy.  
Evolution of English Language and the American Experience: Tracing the Impact of Multiculturalism and the Civil Rights Movements | Monique Santos
Research that maps out the important factors that have contributed to the evolution of the English language in the United States, particularly emphasizing the role of multiculturalism and the Civil Rights Movement. 
---
Thursday, May 6, noon – 1:00 pm

Covid – 19's Effect on Food Insecurity | Sara Archambault
Covid-19 has affected everyone, but those who were already struggling were hit twofold. How has Covid-19 impacted the existing issue of food insecurity in the community?
Fire Extinguishing BOE-Bot: Concept to Prototype | Sara Hincapie
This project discusses the concepts behind creating an autonomous fire-fighting robot.
Historical Threads: Fashion, Textiles, and the Environment | Emily Huling
Take a look at the second most destructive industry after oil and gas: the world of fast fashion.  What are the impacts of fast fashion, and how can we minimize the damage? 
---
Additional Presentations
Some graduating Honors students were not available to share their work live. We invite you to view their final projects below at your leisure.
Investigating STEAM Education for Little Scholars | Dahlia Joseph Albanna
This research highlights the historical roots of STEAM education in the United States and analyzes the impact of STEAM education in contemporary classrooms and what it promises for the future of education.

The Rise of GameStop: How Reddit Beat Wall Street at Their Own Game | Robert Comerford
Hedge funds on Wall Street have always made grotesque amounts of money by driving companies into the ground. How did Reddit turn the tables and cost them millions in a matter of days?

Helping ESL Students Succeed in School | Aydee Morales Rivas
This project investigates persistence rates for English as a Second Language (ESL) learners through a collection of local and national data and considers affective, environmental, financial and academic factors that contribute to success or create barriers.

Experimental Printmaking: Digital and Analog | Hannah Sousa
What can result from blending the process of physical art-making with digital art-making? As a designer who works primarily in the realm of communication design with its repetitive problem/solution focus, what would result by opening the process for greater experimentation, leaving the outcome more open-ended?

The Interrelationship between Mood Disorders and Substance Use Disorder in Young Adults | Jillian Sylvia
An in-depth review of the pathophysiological, psychological, and neurological causes and effects that mood disorders may have on substance use disorders.