Scroll Down for Page Content
---
---

774.357.2234
Transfer@BristolCC.edu
Click here for Transfer Services Calendar
Click HERE for more information on the NETA Scholarships
Start Here, Go Anywhere!
Some students start at Bristol and transfer to a four-year university locally. Other students start at Bristol and transfer to a college in another state across the country! Whatever you choose, we are here to help and support you through this decision-making process.
Keep in touch after you transfer and share your success story! We can't wait to hear where you end up. Transfer@BristolCC.edu.
Listen to transfer student testimonials to learn more about how other students have succeeded!
Bristol Community College has over 80 transfer agreements with four-year schools, locally and nationally. We strive to build partnerships with other colleges that will help you when you're ready to move on.
There are resources to help you along the way. Visit the links below to start learning more about transferring:
Bridgewater State University
Transfer to BSU: BSU Transfer - YouTube
Choosing BSU: Why Our Students Chose BSU - YouTube
UMass Dartmouth
Why UMD? Why UMass Dartmouth - YouTube
UMass Amherst
What is important to know about your transfer to UMass Amherst?
Need help with the Common App?
Common App help for transfer students
The Common App for transfer Help Center
Transferring from a Two Year to a Four Year College
Transfer Numbers and Data from Last Year
The average number of credits that students transferred was 57
The average transfer student GPA was 3.21
58% of our transfer students graduated prior to transfer
Students transferred to 109 different transfer institutions
Where do Bristol Students Transfer?
25% transferred to Bridgewater State University
25% transferred to UMass Dartmouth
Other transfer institutions include:

Rhode Island College
UMass Amherst
SNHU
New England Institute of Technology
Laboure College
UMass Boston
UMass Lowell
...and more!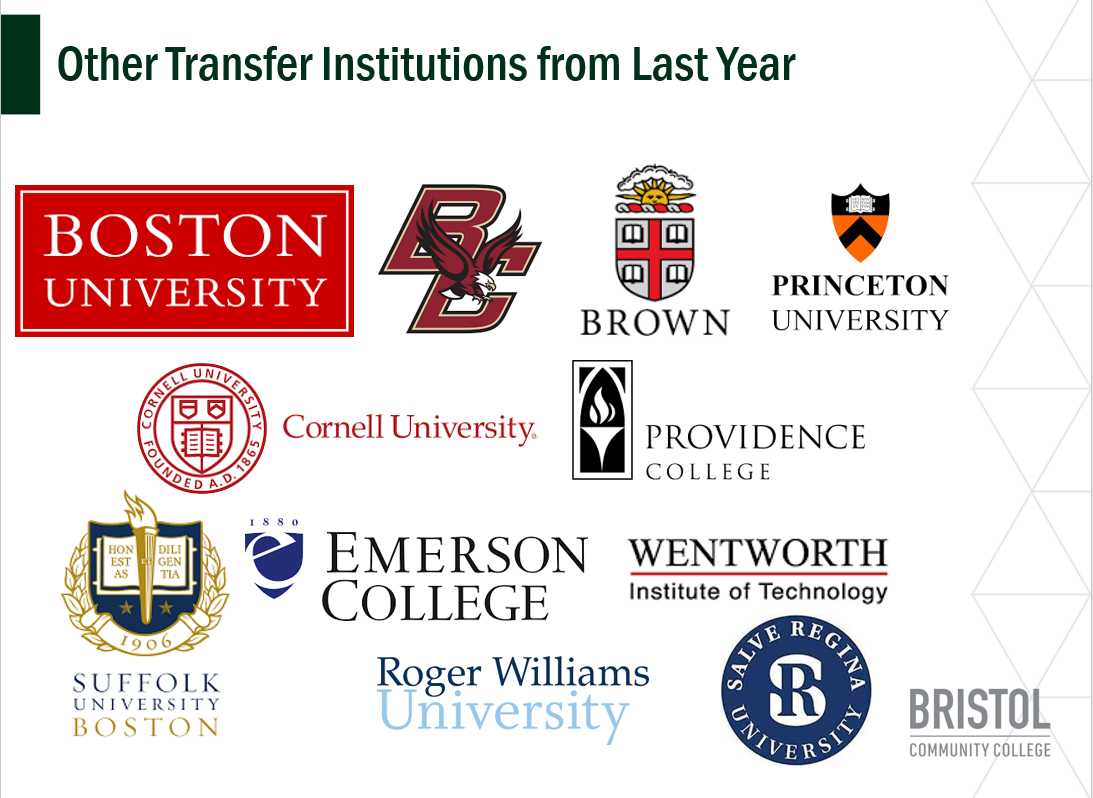 Your bachelor degree begins at Bristol.

Earn your associate degree. Transfer credits.

Save money!
Bristol's Transfer Services provides you with the transfer counseling needed to continue your education at four-year colleges and universities. Resources and services include updated transfer and scholarship information, assistance with applications, and transcript reviews and consultations. Special transfer programs are offered to assist you in achieving your educational goals.
In addition to individual transfer counseling appointments, you can attend transfer workshops designed to address the steps in the transfer process. You also have the opportunity to meet representatives from four-year institutions at a variety of programs and events offered throughout the academic year. Check out our calendar!
The Transfer Office is pleased to announce Express Transfer Services via email. This is an excellent opportunity to get your transfer questions answered without having to wait for an appointment or come to campus. Just email a Transfer Counselor at Transfer@BristolCC.edu.
We will be checking our email Monday through Friday from 9 a.m. - 3 p.m. and we'll get back to you as soon as we can. Hope to hear from you soon!
Phone: 774.357.2234
Email: Transfer@BristolCC.edu
Appointments: To request a virtual appointment with a transfer counselor, please email Transfer@BristolCC.edu with the time and dates desired, as well as a description of what you'd like to discuss.
We hope you find our online tools and resources valuable, no matter where you are! Learn more on our website about MassTransfer, transfer agreements, the college application process, and more.