Random Acts of Kindness Week
February 13 - 17, 2023
Random Acts of Kindness Week is recognized annually to bring awareness to the importance of treating ourselves and others with kindness. Bristol seeks to honor this mission by providing information and resources to empower the community to take part this week and all year. Consider what kindness means to you and check out the activities below for ways to get involved.
---
#BristolKindness Pledge
Bristol has core values rooted in Collaboration, Communication, Inclusion, Innovation, Respect and Student Success. As part of the Bristol community, we are committed to infusing our values with kindness to ensure fellow students, employees and the greater community feel respected and included.
Kindness Stations
Visit a Kindness Station in the lobby of any Bristol location to participate in Random Acts of Kindness Week activities! Stations will include Bristol Kindness Cards, Kindness Treats, Kindness Coloring Pages, and more.
Tuesday, February 14 – Fall River, Attleboro, and New Bedford
Thursday, February 16 – Taunton
To request access accommodations, please contact the Office of Disability Services by phone, 774.357.2955 or by email at ODSAccess@BristolCC.edu. To learn more, visit www.BristolCC.edu/DisabilityServices.
3 Ways to Show #BristolKindness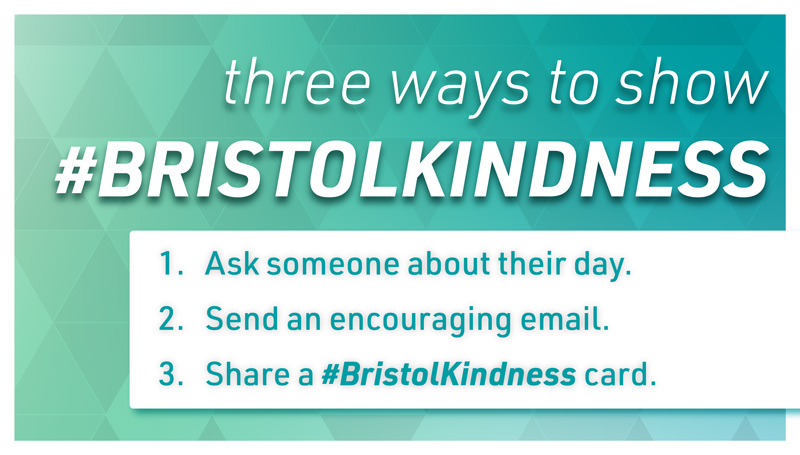 Bristol Kindness Cards
Students, faculty, and staff are encouraged to share messages of kindness that would uplift others with a virtual #BristolKindness card. Use one in an email or tag someone on social media to show you care. Click here and scroll to "Bristol Kindness" to view and save our virtual cards. You can also pick up physical note cards throughout the year at Bristol Human Resources, D209a.
Bristol Kindness Padlet
Celebrate Random Acts of Kindness Week! Share #BristolKindness with a photo, quote, or kindness rock and spread kindness year-round! Click here to share on our Padlet.
Affectionate Awareness: A Self-Compassion Practice
Jennifer Jope, Mental Health Counselor, Bristol Student Wellness
This presentation is an invitation to journey towards radical self-compassion. Blending insight from psychological research on self-compassion with mindfulness exercises, we develop a greater awareness of our inner voice and expand our understanding of the role and consequences of the inner critic. This understanding guides us towards amplifying self-kindness and softening into the grace of our common humanity.
Random Acts of Kindness Resources
The Random Acts of Kindness Foundation makes it their mission to prove that all people can connect through kindness. They also believe that it's important to make kindness the norm! They have many resources and activities to keep you engaged during Random Acts of Kindness week and beyond. Visit the Random Acts of Kindness website to learn more and get involved!
This list shows the 50 most recent pledges. View the complete list here.