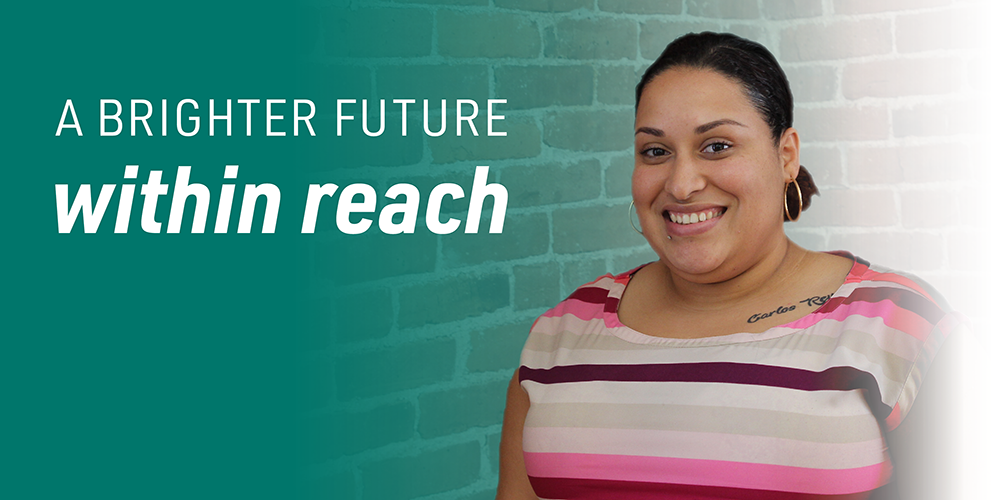 Lilliana Diaz, 28, of New Bedford, began her path at Bristol Community College unsure of whether the timing to begin college was right or if she would even be able to complete her goal. Today, she is a proud Bristol graduate, with an associate degree in human services and a newfound career direction.
Before enrolling in the college's Human Services program, Lilliana completed her high school equivalency exam and had worked several entry-level jobs before she decided that she wanted to pursue a more rewarding career assisting others. Lilliana excelled at the college and was recently inducted into the Phi Theta Kappa (PTK) Honor Society, the world's largest and most prestigious academic honor society for two-year college students.
While studying at Bristol, Lilliana connected with the opportunity to complete an internship at the Immigrants Assistance Center, in New Bedford, where she quickly found the perfect outlet for assisting those in need. She held many responsibilities at the center, including instructing English as a Second Language (ESOL) courses, assisting the completion of passport and citizenship applications, unemployment services and providing advocacy for those who need it most. Her internship also allowed her to join AmeriCorps, earn her Teaching English as a World Language certification and completed 900 community service hours to best assist immigrants navigate the complex system of assistance.
When speaking about her time at the center, Lilliana is grateful to the center for advancing her own career ambitions as well as those of her young children, ages 5 and 6, who regularly proclaim that they want to "help and be nice for others."
"Anything is possible if you want it and work hard," said Lilliana about her time at Bristol. "I can show my children, my family and anyone who can learn, that they can have a better future."



Like Lilliana Diaz, a brighter future is within reach for you, too.
Bristol has so much to offer to help you learn, grow and succeed. Whether you're looking for a career change, new skills or a college degree, Bristol has something to offer.
Get started on your path to an affordable, high-quality education with Bristol Community College.