Scroll Down for Page Content
---
---
Class of 2017 – Bristol Gave Her Confidence
Written by JoAnne Breault, MA
Classes of 1984 and 2012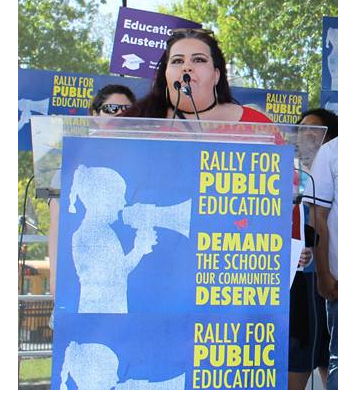 One word that describes Amy M. Blanchette is resilient. As a single mother working multiple jobs, Amy has overcome poverty, personal struggles, and health challenges. She graduated from Bristol with an associate degree and has evolved into a strong advocate for public higher education and a community leader.
Amy, class of 2017, enrolled in general studies because it was flexible and provided the opportunity to explore what she really wanted to do. On a chance meeting in the Commonwealth College Center, Amy met Dr. Colleen Avedikian, Professor of Sociology. Colleen handed out literature about PHENOM, the Public Higher Education Network of Massachusetts, and recruited Amy to join the fight against student debt. This meeting proved fortuitous. Colleen educated Amy on the state of the educational system and Amy now had a relevant platform to develop her voice as an activist and leader. "Colleen is one of the most down to earth people I know," observed Amy. "No matter what personal problems I was dealing with she was always there for me offering support."
Amy had experience with the public education system advocating for her son. She was concerned about completing her degree due to financial constraints. "Working with Colleen and PHENOM made sense for me because now I was advocating for my own education." Amy stated that one of the biggest problems for students is dealing with student debt. "Our students are busy working multiple jobs so that they can pay their living expenses and pay tuition and they are still graduating with a ton of debt," stated Amy. "It hasn't been easy being a student and a single parent, sometimes it is a juggling act."
Amy strongly believes that personal obstacles can prevent students from graduating but support from people who care can make a difference. During her last year of college, Amy was diagnosed with blood clots in her lungs. While she was hospitalized, Colleen brought her coffee and magazines and helped her remain positive. Earning her degree has been all about the journey and the friends she has met along the way.
Kathleen Torpey Garganta, former Vice President of Enrollment Services, also inspired Amy with her support and generosity. While attending Bristol, Amy remembered a dark time when she had to flee her apartment due to personal safety concerns. "I just picked up and moved out of my apartment with one hand dragging a garbage bag stuffed with personal possessions and my son's hand in the other." She moved into a stark tenement and had nothing. "Kathy and Colleen came to my new apartment and brought furniture, dishes, blankets, and filled my refrigerator with food. I will always be grateful. They gave me hope."
Kathy, an alumna of Bristol's Dental Hygiene Program, also helped Amy receive the dental care that she desperately needed. Amy was afflicted with impacted wisdom teeth and was writhing in pain due to an oral infection. "I needed to have oral surgery to remove four teeth. Because I was on blood thinners and I had blood clots in lungs, I could not find a dentist that would operate on me or take my state health insurance," stated Amy. Kathy went on a campaign using her contacts in the dental field and made phone calls until she found a dentist that would perform the surgery and ultimately alleviate Amy's pain.
While attending Bristol, Amy studied government, communication and "had taken every writing course available". These courses helped Amy develop her voice as an advocate and garner leadership roles. Amy served on the Presidential Search, Institutional Effectiveness, and the Retention Committees. Elected as Bristol's Student Senate President, she rendered positive change for the students. "Every campus had provided free parking to students except the New Bedford Campus. They had to pay for parking downtown and we thought that was unfair," recalled Amy. "As part of the student senate we worked with the administration and persuaded the college to pay for parking at a local garage so that New Bedford students could also have free parking."
Amy's most memorable experience occurred at a PHENOM rally in Boston the summer she graduated. As the President of PHENOM, she presented a speech to over 5,000 people, advocating for a debt-free education. On a warm summer day, she wove her personal story into her speech as she jubilantly told her audience she had finally graduated. Shaded by the majestic elms in the oldest public park in America, the crowd erupted in applause. That was her defining moment. "I cried," said Amy. "I was moved." Her personal struggles and hard work had finally paid off. "The most important thing that Bristol has given me is confidence," noted Amy.
She realizes the importance of attaining a bachelor's degree and is enrolled at UMASS Dartmouth as a political science major and English literature minor. Upon graduating with her bachelor's degree, she will seek her master's degree in public policy.
Amy works in the guardianship program for Family Service Association and has returned to Bristol as an employee working as a clerk in the Office of Student Life. Part of her role is organizing student events and the other part is assisting students who need housing, clothing, and food. "That is a passion of mine," said Amy. "Returning to Bristol felt right." She remembers the help and guidance she received as a student and she wants to pay it forward.
Through perseverance and the marketable skills she learned at Bristol, she has emerged as a community leader in Fall River. Amy is a board member of Groundwork Southcoast and Healthfirst, a low-income clinic. She serves as the treasurer of the Flint Neighborhood Association and vice president of communication for Toastmasters. She also wears a colonial costume on weekends and provides tours at the Lafayette Durfee House.
Amy ran for a seat on the Fall River School Committee in 2017. Although she did not win, the "learning experience" has not extinguished her aspirations for running for public office in the future.