Michaella Elizabeth Lesieur
Scroll Down for Page Content
---
---
Class of 2016 – Communicating her passion
Written by JoAnne Breault MA
Class of 1984 and 2012
Michaella Lesieur possesses boundless energy and a positive attitude, which radiates from her winning smile. Since graduating with an associate degree in communications from Bristol in 2016, she diligently works towards her goal of becoming a broadcast journalist and establishing a career in magazine publishing. Her aspirations are to be on-air talent on a lifestyles television program helping to promote non-profit organizations. "Attending Bristol was the most rewarding experience," says Michaella. "It all began here."
As a student in Bristol's communication program, she credits professors Joyce Fernandes and Shelly Murphy for inspiring her to be passionate about her chosen field. "The program helped me to develop my strengths in the professional world and inspired me to dream big," says Michaella. "My experience at Bristol gave me first-hand experience in and out of the classroom." Through her education and internships, she realized that if she wants to succeed in broadcasting, she will need to do everything from write, produce, and speak on camera.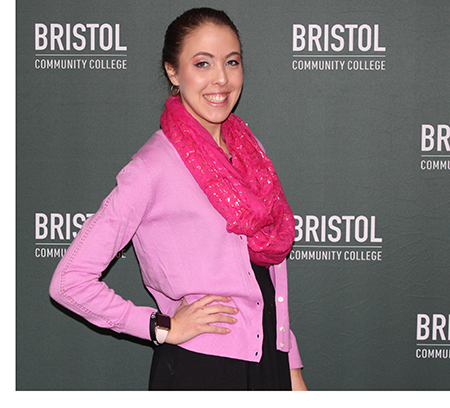 Her communication and technical skills landed her two coveted internships while studying at Bristol. She interned with The Rhode Show, WPRI 12 TV's lifestyle television program highlighting food and events throughout New England. She enjoyed working with hosts Michaela Johnson, Will Gilbert and Brendan Kirby and considered them mentors. "I loved every minute of working on the show and I would return in a heartbeat," says Michaella.
She also interned at RI Monthly, a local lifestyle magazine. Her passion for writing motivated her to transfer into UMASS Dartmouth's English: writing, rhetoric and communication program. After graduating with a bachelor's degree in 2018, she seamlessly transferred into UMD's master's in professional writing and communication.
Michaella also developed her leadership skills at Bristol when she coordinated The Hope on the Horizon Fun Run and Walk to benefit The American Partnership for Eosinophilic Disorders (APFED). This charity is near and dear to her heart because her mother, Madaline Lesieur, has been afflicted with this devastating disease since Michaella was five and her brother Corey was one. Eosinophil-Associated Diseases cause a variety of disorders of some or all of the major organs.
"I rallied friends and relatives from my hometown of Westport, and the friends I made at Bristol to participate in my fundraiser," says Michaella. Promoting the event also honed her skills in public relations, event planning, and media relations which are marketable skills in her chosen field.
Helping her mother deal with this illness inspired her to write a children's book. Luna Lung… Meets HES is based on the true story of her mother's diagnosis of HES and her inspiration to find a cure. Michaella also drew her own illustrations for the book. "Although it is a children's book, it translates to all ages," she says. "It is a message of hope and sheds light on so many different themes including the bond between a mother and daughter." Her book can be found on Blurb.com.
She is currently a graduate student and works full-time at the Leduc Center for Civic Engagement/SouthCoast Serves at UMASS Dartmouth. The Leduc Center's mission is to enrich the lives of the faculty, students, staff, and community through engaged learning, active citizenship, meaningful community service, scholarship, and mutually-beneficial partnerships.
Michaella serves as the volunteer coordinator for SouthCoast Serves, a collaborative connector program made up of community organizations that foster service and volunteerism to meet the needs of the community by leveraging resources, expertise, and capacity to maximize impact. One of her responsibilities is to inspire other students to volunteer 60 hours to community service. "I believe it is important to volunteer and to take the next steps to unite together and make positive change in the world," she says.