Why I Give: An interview with Kevin and Kathy Garganta
Scroll Down for Page Content
---
---
An interview with Kevin and Kathy Garganta
By: Stacie Charbonneau Hess
What do you do when you spend a combined six decades (60 years!) working in, for and with an organization? How do you decide what your legacy will be? How do you pave the way for others' success? If you are Kathy and Kevin Garganta, you establish several endowed scholarships so future Bristol students can achieve their goals with less debt and burden, and more support and encouragement.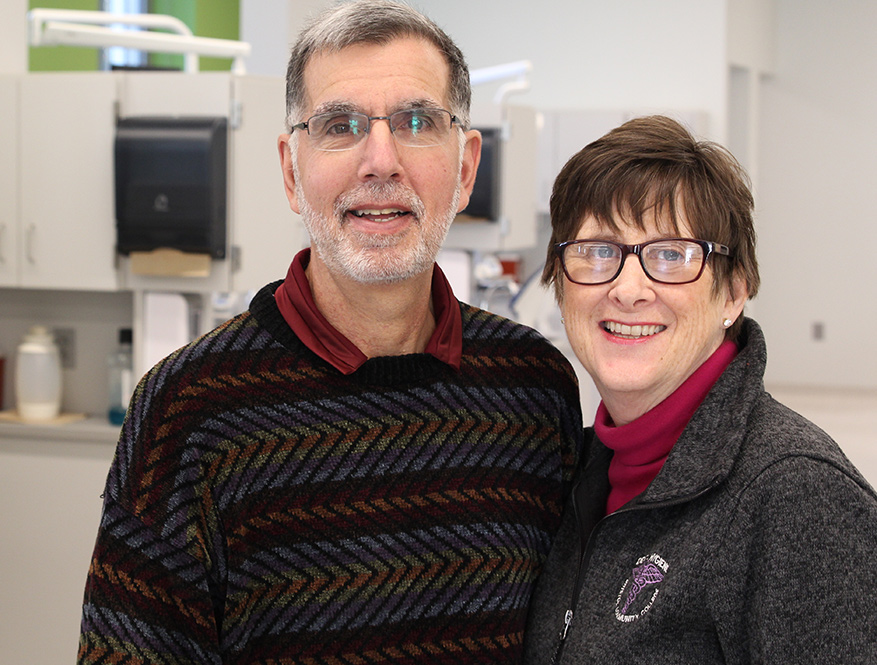 Kathy Torpey Garganta has worn many hats in her 33 years at Bristol, beginning as a student in the 1970s. Kathy was among the third graduating class of Dental Hygiene in 1973. She credits the program for instilling in her a work ethic that she practices to this day. She says, "The Dental Hygiene program was a rigorous one. It made me who I am….the values that I was taught [in that program] shaped the rest of my life." Kathy confesses she was not successful in every single course, and even "flunked" Dental Materials her first go round. "What do you think I was teaching years later?" she joked. That grit and determination surely follows Kathy, and helps her put her student's challenges in perspective.
Even small acts of generosity can have lasting effects. "It's incredible," Kevin admits. "We are seeing the results first-hand right in the classroom. It's a tremendous luxury to see direct results of a scholarship. I know the students that this helps. I have had them in my classroom. Some have said to me, 'I was going to take this semester off'…and if it weren't for the $1,000 scholarship, they would have." We both marvel over the power of a relatively small amount of money to change the course of events in a student's life. "If you think a thousand dollars doesn't matter…" he begins. In fact, sometimes the price of books is the obstacle that prevents students from fully participating in classes.
Kathy and Kevin have been influenced by a long line of givers. Kevin acknowledges that Irving Fradkin, the founder of Dollars for Scholars of Fall River, modeled for him what successful community fundraising looked like, inspiring others to give and never failing to ask for what he needed to make students' dreams come true. Kathy gives her father credit, and shares that he was a prominent figure in Fall River politics, even helping to bring the Battleship Massachusetts vessel to Fall River.
Now that Kathy is retired, she is endowing a second scholarship in her own name, specifically for Dental Hygiene students so they can "…have a little something special." She is actively raising funds to grow the scholarship fund and increase its impact on a Bristol student.
But why give to Bristol? Kathy has degrees from UMASS Amherst and Boston University; Kevin hails from UMASS Amherst, Boston College and Harvard. Their reasons are clear. "Bristol is the most student-centered and friendly…" of any institution Kevin has worked for. Kathy agrees. "It's important to give back to the college you believe in." Both Gargantas hold Bristol in high regard, in part because it helped them professionally — it was where they grew into the teachers they wanted to be — and in part because Bristol's students are so dedicated and hard-working. They admit they are humbled by the challenges students at Bristol have to overcome.
In January of 2019, both Kevin and Kathy will be retired, living part-time in Florida. I mention to Kathy that I can't picture their retirement will be one filled with days at the beach, umbrella drinks in hand, playing rounds of golf between cocktails. She agrees with me. They will stay busy, she admits, driven by their need to help others. "We will probably be saving the manatees…" she says, jokingly. I believe her.
After living their lives on purpose, the Gargantas are purposefully raising up the lives of others with their continued generosity. Recently, Kevin discovered that he was teaching a recipient of his own scholarship in one of his Human Services courses. On the first day, he told her, "We are connected forever now." After six decades of service, the Gargantas are still giving.