The Bristol Alumni Association Volunteer to Help Those in Need
Scroll Down for Page Content
---
---
Bristol Alumni Association Volunteers
Submitted by JoAnne Breault
Classes of 1984 and 2012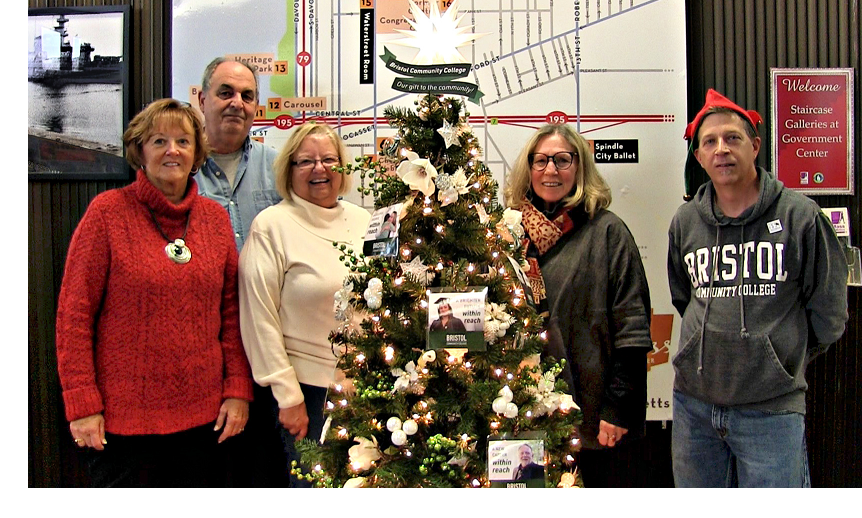 Members of the Bristol Community College Alumni Association recently volunteered to decorate a holiday tree at the Fall River Government Center as part of the fourth annual Festival of Trees. Bristol Community College, along with local businesses and organizations paid $50.00 to sponsor a 6 ft. tree and decorate it in their own theme. The proceeds will be donated to those in need in the community.
Maurice Cyr rallied other members of Bristol's Steering Committee to decorate the tree. "The event will benefit the Fall River Herald News' Holiday Fund," stated Maurice. "The money collected goes to families in need in the city and the Bristol Alumni Association feels that it is important to help members in our community." The proceeds will be divided between Citizens for Citizens and the Salvation Army. Both organizations directly serve Fall River residents. Maurice is in tune with the high level of poverty that plagues the Southcoast. He also serves as Bristol's Mobile Food Market Coordinator and distributes free nutritious food on campus.
Alumna Elizabeth Razee came up with the idea for a Bristol signature decoration. She placed a miniature mortarboard on a mini Reese's peanut butter cup and attached to a Bristol business card featuring a graduate. Candy favors will be passed out during the Festival of Trees slated for Saturday, December 15. Holiday magic will transform the foyer of Government Center into a winter wonderland. Creative Arts Network will be providing entertainment, local artisans, and refreshments to this free family event from 11am to 4pm located at One Government Center.
Come and spread holiday cheer and visit the Bristol tree adorned with signature green ornaments and photos of alumni bearing the slogan "a brighter future within reach." "Bristol has given so much to me as a student and graduate," said Maurice. "I feel the need to give back along with those that serve on the steering committee." Bristol Alumni Association members who volunteered were Maurice Cyr, Liz Razee, Cynde Flanagan, Carol Michael. The Festival of Trees will be on display through the holiday season.