Scroll Down for Page Content
---
---
Class of 2011 – Living the American Dream
Written by JoAnne Breault, MA
Classes of 1984 and 2012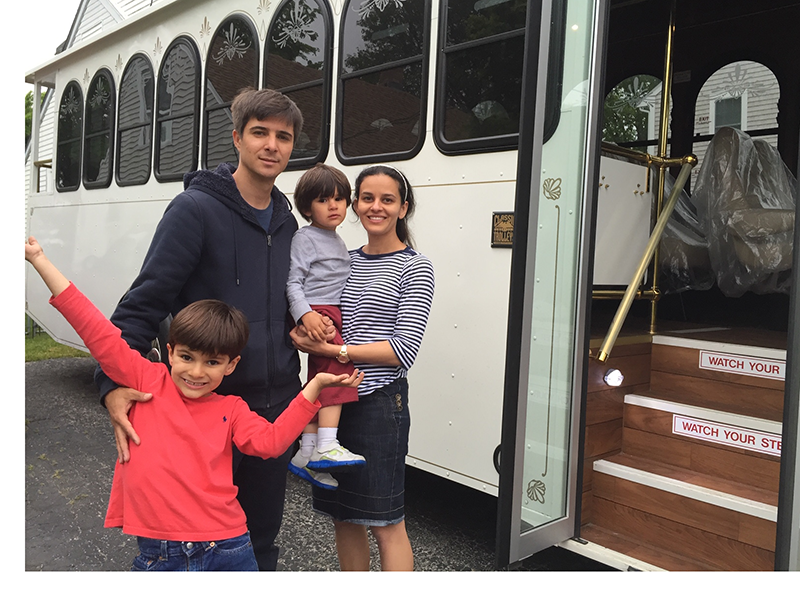 When Carlos Cardoso arrives to work at the Newport Visitors Center, he feels like he has "hit the lottery."
As president of Newport Travel Tours, he meets people from all over the world and has the pleasure of transporting them back in time to the Gilded Age of Newport, Rhode Island. Visitors tour the resplendent mansions that line Bellevue Avenue and the sweeping Cliff Walk that provides a bird's-eye view of Easton's beach.
"It doesn't even feel like I'm working," stated Carlos. He infuses his tours with energy and passion as he shares the rich history of Newport, which served as the "summer home" of America's wealthiest families.
At 15, Carlos emigrated from Brazil and could not speak English. After graduating from Bristol Community College in 2011 with an associate degree and launching his own company that same year, he feels he has achieved the American dream.
While working as the manager of the Bay Willows Inn, the company offered to pay his tuition at Bristol if he enrolled in a tourism-related program. With a nudge from his wife Sanlay, he enrolled in the leisure services and management program. "While at Bristol my English improved and I had the opportunity to take courses that provided me with marketable skills that went from the classroom directly to the job," stated Carlos.
He excelled in courses such as marketing, public speaking, management and business creativity. "My marketing instructor, Robert Billington, helped me to develop a business sense and provided me with the skills necessary to run a company," said Carlos. "To this day I still design my own brochures and advertisements."
He is grateful to Nicole Heaney, Director of Cooperative Education. "My final project was to launch a narrated trolley tour of Newport," said Carlos. This was a big undertaking for a student who was working a full-time job and raising a family. Although his project was big in scope, Nicole supported his decision. "If it wasn't for Nicole's encouragement, I would not be where I am today."
Carlos felt that his heavy Brazilian accent could be an obstacle. "I wrote the script a month before I launched my first tour and Larry Stanford from the visitor's center helped me with the pronunciations," he said. One of his shining moments as a Bristol student was hosting the tour for instructor Billington and students in his marketing class. They provided positive feedback.
This final project stimulated his entrepreneurial skills and ignited his idea to launch Newport Travel Tours, one of Newport County's most popular tourism companies. Carlos also had to overcome financial obstacles. He only had a paltry $8,000 to invest in his company.
His first tour bus had mechanical problems and he spent the first $6,000 getting the vehicle in working condition while competing with other well-established tourism companies in the region. "I ran out of money and I couldn't afford to hire tour guides," lamented Carlos. He was a one-man show. "I drove the bus and served as the tour guide. I did everything."
Today, Carlos is a successful businessperson and his company generated over a half million in sales and provided over 10,000 people with tours last year. "According to Trip Adviser, Newport Travel Tours is rated one of the top two travel tours in Newport," stated Carlos. "I stopped apologizing for my accent." His role as president transitioned into management as he expanded his business by collecting a fleet of vehicles and hiring a well-trained staff.
"Graduating from Bristol changed the trajectory of my life," echoed Carlos. His advice is "to be humble and be courageous." His strong work ethic and thriving business has captivated tourists from all over the world and captured the hearts of Newport.