Scroll Down for Page Content
---
---
Class of 2018 – The World Is Her Stage
Written by JoAnne Breault, MA
Classes of 1984 and 2012
With a sense of practicality, Brianna Kayla Rosario graduated from Bristol with an associate in business administration because she "wanted a career to fall back on" in case her aspirations of becoming an actress did not pan out. Infused with optimism and raw talent, she returned to Bristol to study theater and fulfill her dream. "Acting is something I am passionate about and can pursue while earning a degree," she says. "Theater gives a voice to the performer and allows the audience to experience a different point of view."
To date, she has captured leads in two lauded productions. In "She Kills Monsters," a fantasy based on "Dungeons and Dragons," Brianna played Lilith, a strong warrior princess. "The play was fully student generated and directed by classmate Taylor Corbett," she said.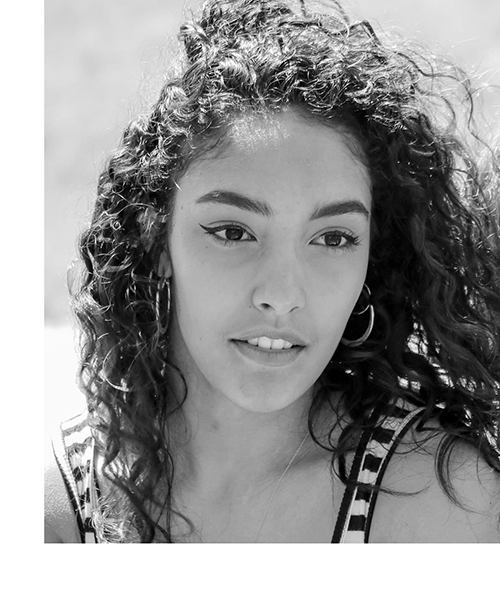 Last spring, she landed one of the leads in "A Midsummer Night's Dream," a Shakespearean comedy. At first, she felt apprehensive about portraying Helena, a capricious young woman who is obsessed with Demetrius. "Through character development, I realized that Helena is like many fickle young people and I looked at the experience to grow as an actress," she quipped. "In the end Helena got her man and found love."
At a svelte 5'9" with dark wavy hair that cascades around her face, Brianna commands attention when she graces the stage. She received positive reviews for both performances and garnered an article in the Herald News. She is grateful to instructors Patty Thomas and David Ledoux, Artistic Director and Associate Professor of Theatre."Patty was a former ensemble member at Trinity and has a warm and encouraging personality," she says. "Patty brings out the best in her students." Brianna suggests that all students take at least one theater course and participate in a production.
She believes that success is all about being at the right place at the right time. She plans on honing her acting skills under the tutelage of David Ledoux, a professional actor, director, and writer who recently relocated from New York City. "David helped me to develop my craft by pushing me as an actress," she says. "The Bristol Theatre Program helped me develop my voice and gave me confidence."
The challenges and demands of becoming a professional actress are not lost to Brianna. While rehearsing almost 30 hours per week for "Midsummer," she held a job at the Fitness Center, performed with the dance team, taught Sunday school, and was on the Dean's List. "I would also like to work in film but right now my focus is on the stage," she says. "In a stage production you have to get your lines right the first time because there are no second chances."
Brianna also enjoyed performing with the dance club. "Dance is similar to acting because it is all about letting go and developing your self-expression," she says. "Be open to the Bristol community and take advantage of the rich resources."