Scroll Down for Page Content
---
---
Class of 2001 - Bristol Trains Leaders
Written by JoAnne Breault, MA
Classes of 1984 and 2012
Roger A. St. Martin graduated from Bristol Community College in 2001 with an Associate Degree in Fire Science and the drive to emerge as a community leader. "When you're a firefighter, you're a firefighter 24 hours a day," says Roger.
One memory will always be seared in his mind. While off duty sleeping in his South End apartment in Fall River, a tenement on his street caught fire. Before the fire engines and emergency personnel arrived on the scene, he ran up the street barefoot and forced his way through the front door alerting tenants to evacuate as the flames engulfed the three-story home. Blinding smoke and intense heat burned his eyes and lungs and prevented him from reaching the third floor.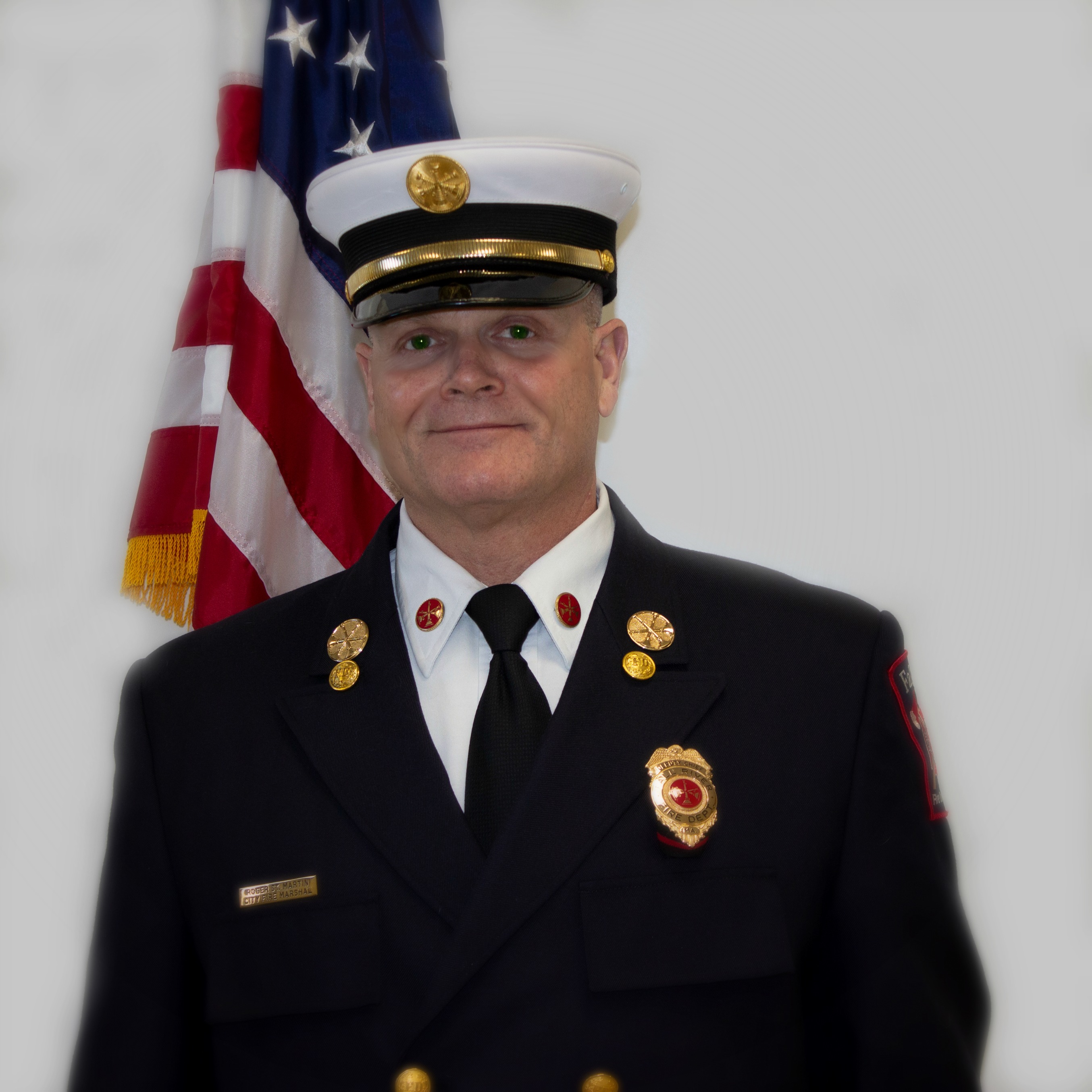 An investigation would later reveal that the residents on the third floor were murdered by the arsonist who torched the house to try and cover up the crime. "Witnessing the loss of life is one of the negative aspects of the job," said Roger. Through his bravery and quick response, he saved several lives. He is no stranger to dangerous occupations, he also served in the Iraqi War enlisted as a Navy Seabee.
Roger enrolled at Bristol to earn his degree and climb the ranks at the Fall River Fire Department. "Attending Bristol earned me points on the exam and education counts for experience when going for a promotion. Bristol was a great start," touted Roger. After graduation, he earned a Bachelor of Fire Science from Columbia Southern University. Roger has been promoted to Deputy Fire Chief and Fire Marshal for the City of Fall River. He is also an Instructor Level 2 at the Massachusetts Fire Academy.
Roger stated that he benefited from courses that you would not traditionally think that firefighters would need to take. "I really enjoyed the writing and literature courses and today I write grants for the fire department." To date, he has obtained over $20 million in public safety grants for the city.
Roger admires and respects his former public speaking professor, Joyce Fernandes. As the Fall River Deputy Fire Chief, he speaks at press conferences and goes into schools and senior complexes giving presentations about fire safety. "Joyce helped me overcome my public speaking anxiety."
One of his fondest memories was taking Dr. James Pelletier to the Fire Academy in Stow Massachusetts. Professor Pelletier had the opportunity to enter a simulation of a burning building as part of the training. "Dr. Pelletier said that was the most exciting thing he had ever witnessed," said Roger. "Professor Pelletier was passionate about the sciences and took a personal interest in me as a fire science major."
Roger's advice to any student studying fire science is to "focus on emergency medical services (EMT) and then apply paramedic courses as electives." Besides fighting fires, firefighters respond to car accidents and other medical emergencies.
Roger places a great value on education. He graduated from Waldorf University with a Master's in Organizational Leadership in Emergency Management in 2019. He also serves on the Fallen Fall River Firefighters Scholarship Committee which has awarded over $120,000 in scholarships given in the names of the eighteen firefighters who lost their lives. In 2019, Bristol Community College recognized Roger with an Alumni Service Award.